Seed Matters 
Released by Jason Taylor and The Gaia Foundation November 2014.
Seed Matters is a short film featuring interviews from The Great Seed Festival, the first national UK festival of seed, which took place in October 2014 to raise awareness of the importance of seed, and to celebrate seed, food and biodiversity. The film beautifully captures the energy and legacy of the Festival.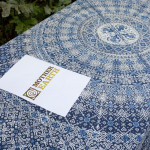 The Farmer, The Architect and The Scientist
Released by Jason Taylor and The Gaia Foundation June 2013.
This short film tells the story of a seed hero, Dr Debal Deb. A pioneering ecologist, Debal is committed to working with traditional farmers in eastern India to conserve indigenous seed diversity. Over almost two decades, Debal has managed to save 920 varieties of rice, all of which he stores in community based seed banks in West Bengal and Odisha for farmers. This film follows the construction of a new seed bank premises in Odisha, a venture that provides a potent symbol of Debal's values. Watch the film and find out more here.