GM Health Risk Week- 2-8th September
In light of the UK Government's push towards commercialisation of GM food in the UK and in the EU, now is the time to be examining the risks involved in producing and consuming GM food, and questioning why these risks have not been addressed.
Thanks to consumer pressure, GMOs only appear in a small number or products in UK stores (as well as in animal food), and Scotland and Wales have successfully banned GM trials. Through a week raising awareness and debate we can ensure that a 'healthy scepticism' of GMOs remains on the menu.
To find out more, visit the website: http://www.gmhealthriskweek.org/
Twitter: https://twitter.com/gmhrw
and Facebook: https://www.facebook.com/GMHealthRiskWeek
GMF Action: Turning up the heat on supermarkets
There are new actions you can take to tell UK supermarkets that you are unhappy with their shift away from non-GM animal feed (See here):
Please take the time to investigate further, send e-mails and spread the word via Facebook and Twitter.
Petition to close loop holes in European Patent Law
It's unbelievable, but Monsanto and Co. are at it again. These profit-hungry biotech companies have found a way to gain exclusive control over the seeds of life – the source of our food. They're trying to patent away varieties of our everyday vegetables and fruits like cucumber, broccoli and melons, forcing growers to pay them for seed and risk being sued if they don't.
Many farmers and politicians are already against this — we just need to bring in people power to pressure these countries to keep Monsanto's hands off our food. To Sign now and share with everyone to help build the biggest food defense call ever click here.
Stop the Crop- for a sustainable GMO free future
On Monday 18th of March 2013 a large coalition of organisations including Friends of the Earth Europe, Corporate Europe Observatory and GM Watch (UK) launched a new Stop the Crop campaign. This is in response to the 25 GM crops still in the pipeline and close to approval, a GMO supporting European Commission, a lack of transparency in decision making processes and less resilient national governments.
To add your voice to this vital campaign and for more information on GM crops visit the website at www.stopthecrop.org.
Time to stop bankers betting on hunger
World Development Movement is leading a high-profile campaign to push the UK government to change its position on food speculation. European finance ministers will decide new rules in November, but the UK is opposing stronger regulation. Global food prices are soaring, pushing many more of the world's poorest people into hunger. Financial speculators are rushing to cash-in on rising prices. Experts predict that betting on the cost of food will push prices through the roof, as it did in 2008 and 2011. Please help us show George Osborne that the UK public wants him to vote for strong limits on food speculation.
Demand proper GM safety testing now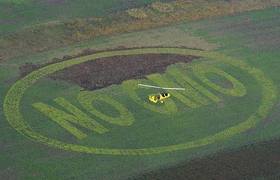 GM Freeze is a UK campaign group working to keep GM food and animal feed out of the food supply. Following research showing the shocking effects of feeding GM corn to rats, they are pushing for more and better testing of GM food to be carried out. They run a number of campaigns aimed at various sectors of the food indusrty. GM Freeze say:
"We can hold politicians to account. We can shop smart and press food companies to give us what we want. And we can win. There is very little labelled GM food in UK shops today because consumers reacted so strongly against it that food companies, particularly supermarkets, reaslised they had to avoid it to keep their customers.
These actions will help keep GM foods out of our shops and get GM out of our animal feed." Join the campaign.
Petition to keep GM corn out of Walmart
Monsanto's latest GM corn could be in Walmart stores across the United States this month. Join people around the world in telling the director of Walmart that we know the dangers of eating GM and don't want to see these foods in shops.
"As concerned citizens from around the world, we call on you to prevent Monsanto's Bt toxin corn from entering our global food supply chain by keeping it out of your stores…"  Sign the petition